Do you feel like you have your finances in order or are you winging it? Talking about finances can be really difficult because the conversations are so emotionally charged. It's easy to have fears, insecurities, and frustrations tied into our finances. We understand that because we've been there too. Rather than getting trapped in that cycle, we'll walk you through how to get your finances in order.
Step 1: Make a Budget
Have you ever put a puzzle together without having the end picture in sight? Probably not. You know that'd make the task much more difficult than it needs to be. 
The same goes for your budget. Without seeing an accurate picture, it's hard to understand what you need to do to reach your goal.
How to Start
Grab a piece of paper and write down how much money your household brings in each month at the top of the page. Below that, write the following headings:
household

transportation

food

entertainment

clothing & gifts

others
Then, go through your bank and credit card statements for the last month and pair each expense with a heading, and total them up.
Now you know how much you spend each month AND what you spend the most money on.
Add up all of your expenses. And subtract your income from expenses. That's how much money you have left over each month.
If you're spending more than you're making, you need to go over your expenses and your income to see what changes you can make.
To finish off your budget, decide where you want that extra amount of money to go. Maybe debt repayment, a vacation, or one of the following.
Step 2: Make an Emergency Plan
There are SO many angles to look at this from, so we're going to cover 3 main angles.
Make an Emergency Fund
This is priority numero uno. Your emergency fund should be at least enough to cover 3 months of expenses. And yes, that's a big number. But this emergency fund is going to keep your budget on track, avoid stress in a financial crisis, get you through a job loss, and a lot of other 💩 that life can throw at you. 
Our suggestion is that you put a manageable amount of money aside each month, into an account that you don't have access to via bank card, like a TFSA. 
What if something happened and you couldn't work for a long period of time though?
Just because you don't have an income, doesn't mean the bills stop. Because saving enough to cover you (and maybe your partner) taking a long period of time off of work isn't realistic for most people, get disability insurance. It replaces a portion of your income if you're hurt or sick.
There are also insurance plans that would help financially if you couldn't work because your child was sick.
Get life insurance
It's not for you, it's for your loved ones. It'll help them pay off debt (including the house), afford the expenses of growing kids, and finance the changes in lifestyle they'll need to make.
When we talk about how to get your finances in order, we also need to consider protecting them.
Make a will
Without a will, your loved ones may have to wait a long time and pay fees to get their inheritance. In order to avoid conflicts and ensure your family is taken care of, sit down with a lawyer and knock this off your task list.
Step 3: Make a Savings Goal
Now that you know what your financial situation looks like and you've made sure you're covered if it ever took a hit, you need to make a savings goal.
Saving looks different for many people – both how you save and what you save for. It could be saving for a long-term expense like retirement, a property, vacation or large annual bills.
Whatever it is, you'll need to refer to your budget again.
You know how much you have leftover now, so you can decide how much of that you want to put into saving. 
Make sure that you do the math on how long it'll take to save what you need. Putting $100 aside for a new car each month might sound like a great idea until you realize it'll take you a year just to save $1,200.
You've probably realized that there's nothing glamorous about getting your finances in order.
It's not as fancy to whip out a debit card as it is a Black Card nor is it too fun to spend your free time putting this all together. It takes discipline, a firm grasp on what you're working towards, and boundaries.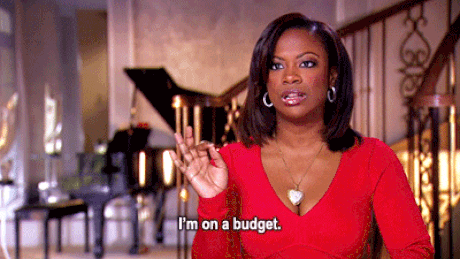 But how good would it feel to not be phased by a surprise bill? Or to know you'd be okay if you lost your job?
These things aren't glamorous but the freedom and security you can afford by following these steps on how to get your finances in order are much more rewarding.
Be sure to share this with your closest friends who want that same freedom!
Take control of your financial future.