Did you know that 42% of Canadians don't have a budget for Christmas? CPA Canada's study says most of us PLAN to spend less but only about half will actually budget. Hmmmmm. On the flip side, 1 in 5 admit they're gonna blow whatever budget they didn't create . In response to that, I've created your Christmas budget cheat sheet!
Now, if you're celebrating the Holidays, Kwanzaa, Hanukkah or a really expensive Wendesday, that's great too! Use this cheat sheet as you see fit.
Christmas is busy and budgeting isn't fun. But, and especially if lowering stress and self-care is going to be a New Year's Resolution, it's a necessity.
What can you do about it? Well, I'm glad you asked! 😉
Scroll to the BOTTOM of the page and grab a worksheet freebie!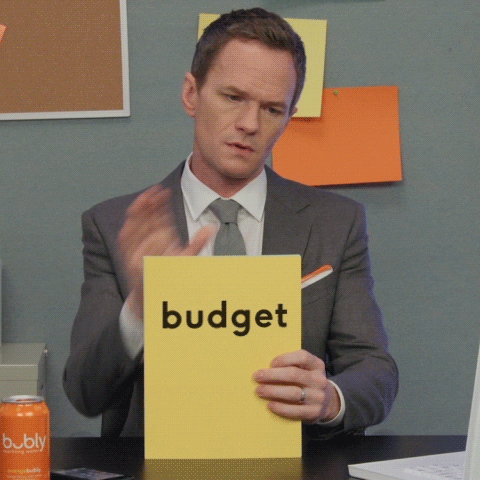 When it comes to budgeting, making a plan is the best route! There are 10 tips in your Christmas budget cheat sheet. You'll find a few of them have helpful links – be sure to click on those!
Grab your freebie below!
1. Think back to last year:
How much did you spend? Did it seem worth it?
2. Pick a number: 
BEFORE you get to the store, decide how much you'll spend on each person and keep track of that number.
3. Shop for deals: 
We all have a little computer stashed in our pocket (your smart phone!). Before you hand your card over, do a quick search online and see if another store has a sale on that item.
4. Send an e-card:
If you like to send a Holiday card each year, why not send an e-card? It's MUCH cheaper (FREE most often) and so much better for the environment.
5. Know why you're giving the gift: 
Think of that one person (or group of people) that you "have to buy a gift for." Just in case you need it, here's your permission to NOT buy them anything. It doesn't make you cheap or a scrooge. You're not obliged to buy Christmas presents! That's an idea that's been SOLD to you.
6. How many leftovers do you want?:
In our family, we joke about 'pawning off' the leftovers so the cook doesn't have to eat half a turkey 😆 But think about how silly that is! If you find you have a tonne of leftovers each year, try cooking a little less. Now that's a win-win! Another option is that, after dinner, you bring a warm tupperware and a fork downtown for a homeless neighbour.
7. Pick a name: 
The last few years, our family has been drawing names using this program. (not an affiliate link) It's made Christmas so much easier! We each pick one name and have a spending limit. It's really helped our budget and we all leave with things we actually wanted; no 'filler presents'.
8. Try a more needs based approach to buying for kids:
One thing they want, one thing they need, one thing to wear, one thing to read, and one thing for the family.
9. Limit your decor: 
I have a deal with myself to not get more than the 1 bin I have for Christmas decorations (not including the tree). Now, that might be unrealistic to you, especially if you have kids. Maybe it's 3 or 4 bins. Whatever it is, limit yourself to what fits in the space you've allowed. Remember, you're paying for those items, the bin, AND the storage space they're in – think storage lockers and extra sqft in your home. If you find a piece you LOVE, something else has to go!
10. Don't be afraid of change: 
I'm a huge fan of traditions. Especially holiday traditions! But if they're not serving you anymore, consider making a change. For example, if you always open a few presents on Christmas Eve (which means you have to buy 'enough' for Christmas Day too), try switching it up! A family game and a movie might be even more memorable.
I hope these Christmas budget tips come in handy this season! 
Remember, when the lights are taken down, the credit card still has to be paid! It's worth planning a little now to save yourself from money stress in the New Year.
What's YOUR favorite tradition during the Holidays? Comment below!
P.S. Have you heard of 'conscious consumerism"? I'd encourage you to look into that. Check out this video on the social responsibility. 
Would this blog have been helpful to find just a few weeks before Christmas? Sign up for our newsletter to get helpful tools like this right when you need them!